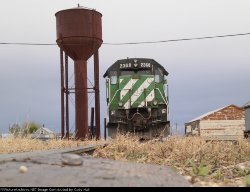 Welcome to the RRPictureArchives.NET contributor site of C H.

My favorite Railroad is Burlington Northern, and sd70MAC's are my favorite locomotives. I really love Nebraska, southern Colorado & Denver/Colorado Springs, parts of Utah, northern Montana, Alaska, Parts of Canada, and the Appalachian Mountain region.

Here is my youtube link:

http://www.youtube.com/user/sp4449bn9444




Here are the locomotives that I was first to photograph and post on this website

BNSF 6137 - ES44AC (first photographed, not uploaded)

BNSF 4284 - ES44C4

BNSF 3994 - ET44C4

BNSF 3819 - ET44C4

BNSF 4249 - ES44C4

BNSF 611 - AC44C4M (first shot of this locomotive rebuilt from a C44-9W to the AC44C4M it is today)

UP 9015 - sd70AH

UP 2607 - ET44AH (First one to upload pictures of this unit)

HLCX 4401 - GP40 (first shot of this loco with this company)

GMTX 2244 - GP38-2 (first shot of this loco with this company)




Some of the "famous" locomotives I have photographed:

UP 1989 - UP's sd70ACe DRGW heritage unit

DRGW 5371 - sd40T-2

UP 2002 - UP's sd70M Salt Lake City Winter Olympic unit

BNSF 485609 - Northern Pacific heritage hopper

BNSF 478793 - Northern Pacific heritage hopper (2nd one I've seen)

UP 4014 - UP sd70M (famous for leading 4014 Big Boy from California to Cheyenne on it's trek to being restored)




I have seen BNSF sd70MAC #9647 twice (no camera handy). UP 1982 UP's sd70ACe MP heritage unit (again no camera handy). UP sd70M 2001 which was paired as a yard switcher with 2002 in Rock Springs, WY for a couple weeks (never had a camera to take a picture of them together) in 2003 I believe, UP sd70ACe 4141 President Bush unit (too dark in Wind River Canyon to take a picture)




I mostly photograph BNSF's Casper subdivision (Casper WY - Laurel MT), but mostly along the Casper Sub's Cody Branch line (Frannie to Cody WY). Laurel MT is where most of my photos are captured but I only go about once maybe twice a month.



You may browse my collection of pictures via the menu located on the left hand side of the page. I hope you enjoy the collection and thanks for stopping by!